Eight popular Ganapati in Maharashtra is known as 'Ashtavinayak'. Their names, places, and districts are as follows:
1. Moreshwar(Mayureshwar) Ganapati, Morgaon, Pune
Moreshwar (Morgaon) is a Ganapati temple in Pune district. This temple is one of the Ashtavinayakas.
Mayureshwar Ganapati of Morgaon is known as the first Ganapati in Ashtavinayaka. Mayureshwar Temple, Morgaon This temple was built by Subhedar Gole during the Adilshahi period. Subhedar Gole was the grandfather of Narveer Pilaji Gole.
Mayureshwar Katha
According to legend, the king of Gandaki city in Mithila was ruling Chakrapani. He and his queen Ugra were sad because they did not have children. The two worshiped the sun and the queen passed the day as a blessing. But the queen could not bear the light and radiance of that fetus and she left that fetus in the sea. From this a glorious son was born. As a Brahmin, the sea handed over the boy to the king. Born at sea, the king named his son Sindhu. As the sun-worshiping Indus grew, it became more and more powerful.
Pleased with Sindhu, Surya gave him nectar as a boon and blessed him that as long as this nectar is in his navel, he will not die. After attaining immortality, Sindhu attacked Indra and other gods. He defeated all the gods and put them in his prison. Then the rest of the gods prayed to Ganapati and begged him to save them from the demon king Sindhu. Pleased with their prayers, Ganapati killed the Indus demon by giving birth to Parvati's son in Tretayuga. For this, Ganapati rode on a peacock and incarnated on the earth and this is where the head of the Indus fell.
2. Siddhivinayak Ganapati Temple, Siddhatek, Ahmednagar
Shri Siddheshwar is a temple at Siddhatek, two hours away from Morgaon. To reach there, one has to travel via Chaufula-Patas.
Siddhivinayak Katha
According to legend, when Brahma wanted to create the universe, he chanted "Om". Ganapati was pleased with his asceticism and gave Brahma the gift of fulfilling his desire to create the universe. And Ganapati accepted the two daughters of Brahma as his wife. When Brahma was creating the universe, Lord Vishnu fell asleep. Madhu and Kaitabh were created from Vishnu's ears. They began to persecute the gods. Brahma realized that only Vishnu could kill these demons, Vishnu tried but he could not kill them.
Vishnu defeated the effort but he could not kill the demons. He then stopped fighting and started singing in the guise of Gandharva. When Shankara heard his singing and called him, Vishnu told Shankara about the battle with the demons. Then Shankara asked him to chant the mantra "Om Ganeshay Namah". Vishnu chose Siddhatek for this chanting. On this hill, Vishnu built a temple with four doors and installed an idol of Lord Ganesha in it. After worshiping Ganesha, Vishnu attained Siddhi and killed the demons Madhu and Kaitabh. Eventually, the temple built by Vishnu was destroyed.
According to another legend, a herdsman saw Ganapati here and started worshiping Ganapati. Later he got a priest to perform pooja-archa here. Eventually, the temple was rebuilt here in the Peshwa kingdom. It is believed that Saint Shri Morya Gosavi and Saint Narayan Maharaj of Khed were liberated at this place.
3. Ballaleshwar Ganapati temple, Pali, Raigad
Ballaleshwar (Pali) is a Ganapati temple in Pali village in Raigad district. This temple is one of the Ashtavinayakas. In Ganesha Purana, Pali's Ballaleshwar is known as the third Ganapati in Ashtavinayaka. This is the only Ganapati in Ashtavinayak who is famous by the name of Bhakta (Ballal). Ballal was an infinite devotee of Lord Ganesha.
Ballaleshwar Katha
According to legend, this is a story from the Treta era. In Pali, a man named Kalyan was living with his wife Indumati. They had a son named Ballal. Ballal was a great devotee of Ganesha. He used to worship Ganapati with his friends. One day, the boys found a large rock outside the village. Due to Ballala's insistence, the stone was worshiped as Ganapati. Those children used to become so dumb in Ganesha's devotion that they were not aware of thirst-hunger, day and night.
The parents of all the children were waiting for their return. When the children did not return, all the parents went to Ballal's father Kalyan and complained to Ballal. So Kalyan got angry and went to look for the children with a stick in his hand. He found the children listening to the Ganesh Purana and he became very angry. In a fit of rage, he took a stick and tore down the small temple built by the children. He kicked the bat until it bled. and tied the bat to a tree and threw away all the worship materials. He also threw a big stone which the children were calling Ganpati, which they were worshiping. Kalyan said, "Now let's see which God protects you." So he went home.
Although Ballala was suffering from physical injuries, thirst, and hunger, he continued chanting Ganesha till his pure loss. Seeing his devotion, Ganapati was moved and he came to Ballala in the guise of a Brahmin. He touched the bat. Ballala's thirst and hunger disappeared, and his wounds healed. Ballala recognized Ganapati in the guise of a Brahmin and knelt at the feet of God. Then Ganapati asked him to ask for one. Ballala requested Ganapati to stay there and remove the sorrows of the people.
Ganapati said, "A part of me will remain here, your name will be taken before my name. Here people will call me Ballal Vinayak. " Ganapati embraced Ballala and he disappeared into a nearby rock. The cracks in the rock disappeared, and it became intact again. We know that stone idol as Ballaleshwar. The stone thrown by Kalyan Vanya is also called Dhundivinayak. This is a self-made idol and is worshiped before the worship of Ballaleshwar.
4. Varadvinayak Ganapati Temple, Mahad, Raigad
Varadavinayak (Mahad) is the temple of Ganapati in Raigad district. Mahad's Varadavinayak is known as the fourth Ganapati in Ashtavinayak. This Ganapati can be worshiped by going very close.
Varadavinayak (Mahad) is the temple of Ganapati in Raigad district. Mahad's Varadavinayak is known as the fourth Ganapati in Ashtavinayak. This Ganapati can be worshiped by going very close.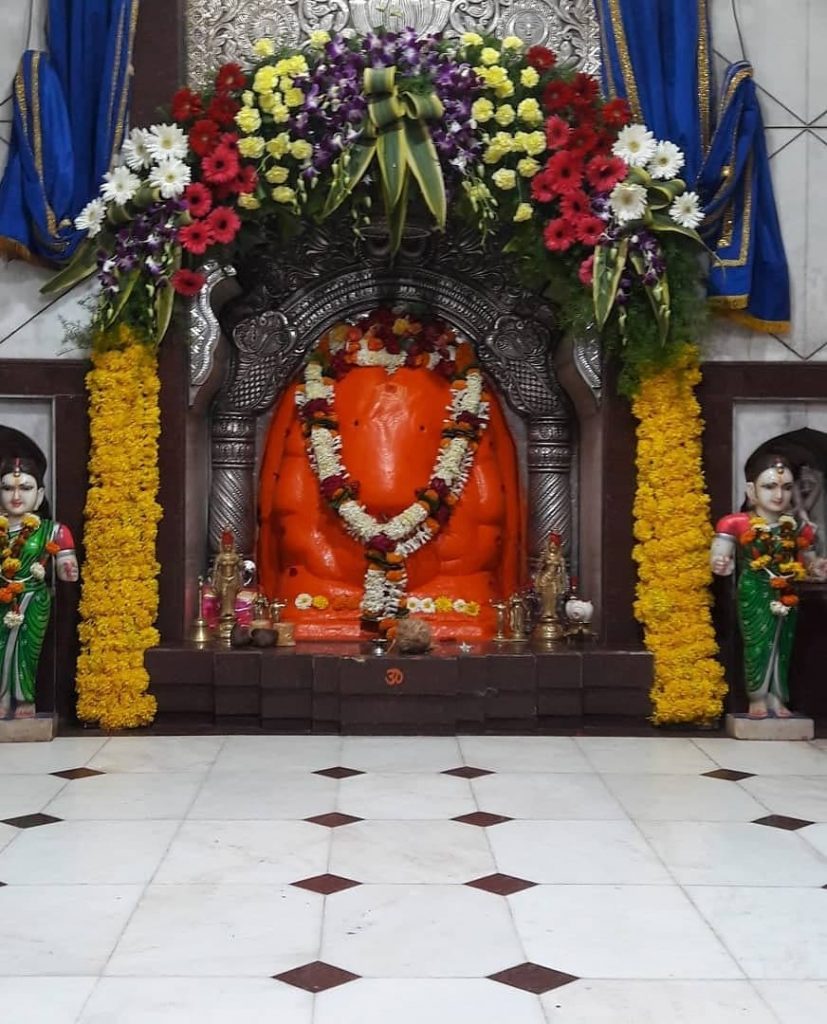 Varadvinayak Katha
According to legend, Bhima, the emperor of Kondinyapur, and his queen had no children. Sage Vishwamitra was doing penance in the forest. They both went to meet him. Then Vishwamitra gave him the monosyllabic Ganesha mantra. Due to the chanting of that mantra, he had a son named Rukmand. Prince Rukmand soon grew up small.
Once the prince went hunting in the forest, he stayed in the ashram of sage Vachaknavi. Then the sage's wife Mukunda fell in love with Prince Rukand. But the prince refused to accept her love and he left the monastery. Seeing Mukunda fighting for the prince, Indra disguised himself as Rukmand and went to Mukunda. From that, Mukunda passed away and she gave birth to a son named Gritsamd. When Gritsamad finds out about his birth, he curses his mother and goes to the flower forest to do penance. Ganpati is pleased with his warmth and tells him that he will have a very brave boy whom only Lord Shankara can defeat.
Gritsamad asked Ganapati to stay there permanently and requested him to impart theology. Today that forest is called Bhadraka. Gritsammad built a Ganapati temple at that place and the Ganapati established there is called Varadavinayak. It is believed that Maghi Chaturthi gives birth to a son by eating the coconut received as prasad. Therefore, devotees flock to this Ashtavinayaka temple during the Maghi festival.
5. Chintamani Ganapati Temple, Theur, Pune
This temple is at a distance of 22 km from Pune on Pune-Solapur highway. Theur is situated at the confluence of three rivers, Mula-Mutha-Bhima. Theur is close to Pune. This temple is just before Khandala on the Khopoli-Old Mumbai-Pune highway. Theur is an hour's drive from the Pune-Solapur highway.
Chintamani Ganapati Katha
According to legend, King Abhijit and his wife performed great penance and gave birth to Ganasur. When Ganasura visited the sage Kapila's ashram, the sages used the Chintamani Ratna near him to feed Ganasura the best panchapakvanna. Ganasura lost his lust for the Chintamani gem and forcibly snatched it from Kapila sage. Goddess Durga advised Kapila sages to seek the help of Ganapati.
Ganapati defeated Ganaraja under the Kadamba tree, seized the precious gem from him, and gave it back to Kapila sages. As a reward for this, sage Kapila put the gem around Ganapati's neck and from then on, Ganapati wearing Chintamani Ratna around his neck became known as Chintamani Vinayak. Theur is also known as 'Kadambapur' as the story takes place under a Kadamba tree.
6. Girijatmaka Ganapati Temple, Lenyadri, Pune
There is a temple of Shri Girijatmaka on the hill of Lenyadri. It is a two and a half hour drive from Nashik Fata-Chakan-Rajgurunagar-Narayangaon-Junnar. Girijatmak means Parvati, the son of Girija. It is the only temple of the Ashtavinayakas which is situated on a hill in a complex of 18 Buddhist caves. This Ganesha temple is in the 8th cave. Due to this temple, these caves are also called Ganesh Caves.
Girijatmaka Ganapati Katha
According to Ganesha Purana, Goddess Sati took the incarnation of Parvati and expressed her desire to give birth to Ganesha. For this, she did a great penance on Lenyadri mountain. On the day of Bhadrapad Chaturthi, Goddess Parvati made an idol from the mud of her own body. Ganapati entered the idol and entered in front of her as a child with six arms and three eyes. It is said that Ganapati stayed in Lenyadri for 15 years in this incarnation. In this incarnation he killed many demons.
7. Vighneshwar Ganapati Temple, Ozar, Pune
The temple is 20 km and 45 minutes away from Lenyadri. Here Ganapati defeated the demon Vighnasur so he is called Vighneshwar. Vighneshwar also means one who removes obstacles.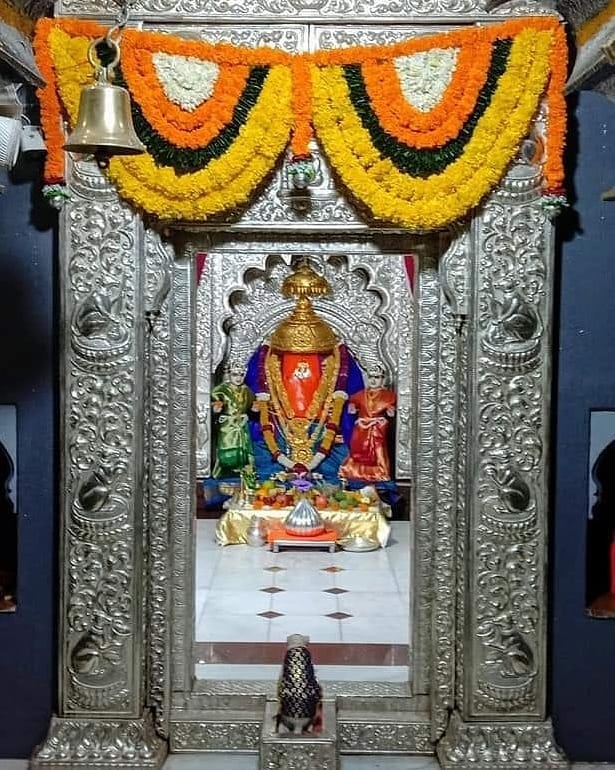 Vighneshwar Ganapati Katha
According to the Puranas, once a king named Abhinandan performed Yajna to get Indrapada, so Indra, enraged, rushed to Vighnasura to destroy it and stop the Yajna. Vighnasura not only hindered the sacrifice but also created many obstacles in the universe. So then the people on earth went to Brahma and Shankar. The two of them asked Ganapati for help.
All the people worshiped Ganapati and being pleased with their prayers, Ganapati incarnated as the son of Parashar Rishi and Ganapati defeated him in a fierce battle with Vighnasura. This made the people very happy and they established Vighneshwar here.
8. Mahaganapati Temple, Ranjangaon, Pune
This temple is located on Pune-Ahmednagar road, 2 hours from Ojhar. The eighth temple of Ashtavinayak Yatra belongs to Mahaganapati and is considered to be the most powerful. It is said that before the war with Tripurasura, Lord Shiva worshiped Lord Ganesha here.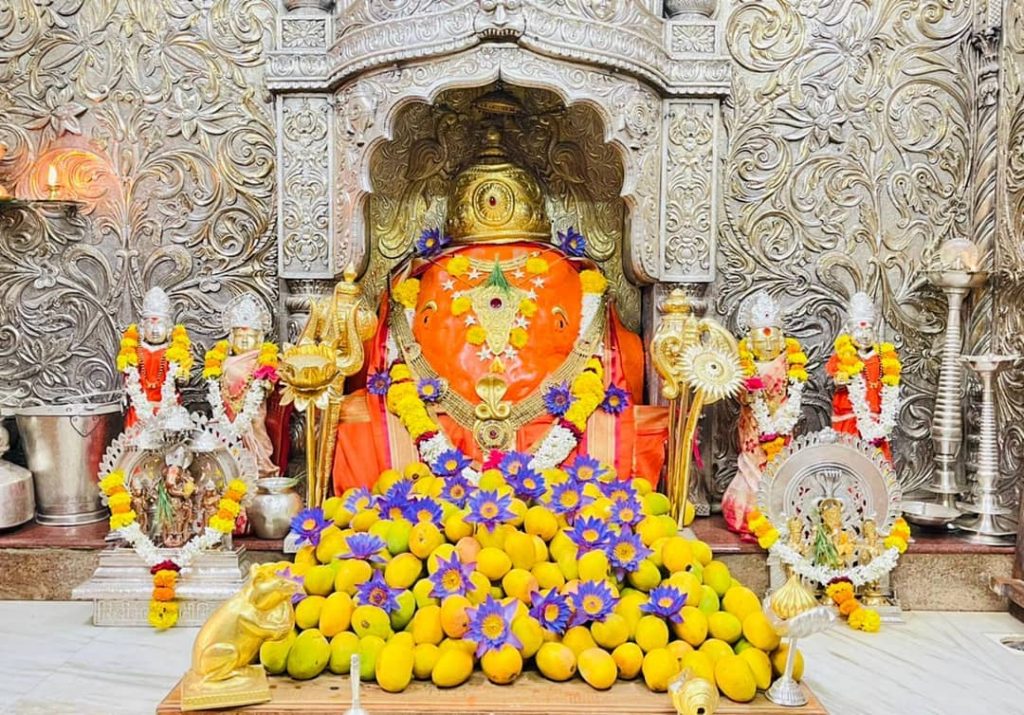 Mahaganapati Katha
According to legend, Tripurasura, the son of sage Gritsamad, was an intelligent child and a devout devotee of Lord Ganesha. Pleased with his devotion, he gave him a metal as precious as Tripura. Only Shankara could destroy it. Tripurasura, overwhelmed with ego, began to harass the gods. Brahma and Vishnu, fed up with his troubles, hid. Then Narada advised the frightened gods to seek Ganapati's help. Ganapati agreed to help the gods.
Ganapati disguised as a Brahmin and persuaded Tripurasura to make three flying planes and asked him to bring an idol of Chintamani from Mount Kailash. Blinded by greed, Tripurasura attacked Kailasa. Shankar could not defeat him. Shankara realized that he did not worship Ganesha. When Shankara invoked Ganapati by chanting Shadakshara Mantra, Ganapati appeared there and instructed Shankara to defeat Tripurasura. Following those instructions, Shankara killed the greedy Tripurasura and built a temple of Mahaganapati at that place.
Ashtavinayak Marg Map