Vadapav is one of the famous and Best street food in Pune. Different kinds and recipes we can see to make vadapav in Pune. Vadapav is the first choice of Maharashtrian people in Snacks. In Pune's Vadapav you can have soft Pav and vada make from Potato and some tangy chutneys and spicy chilies. In Pune, we can see different tastes of Vadapav and also different sizes too.
For you we Select and map out some Best Vadapav in Pune.
JJ Garden Vadapav, Camp, Pune.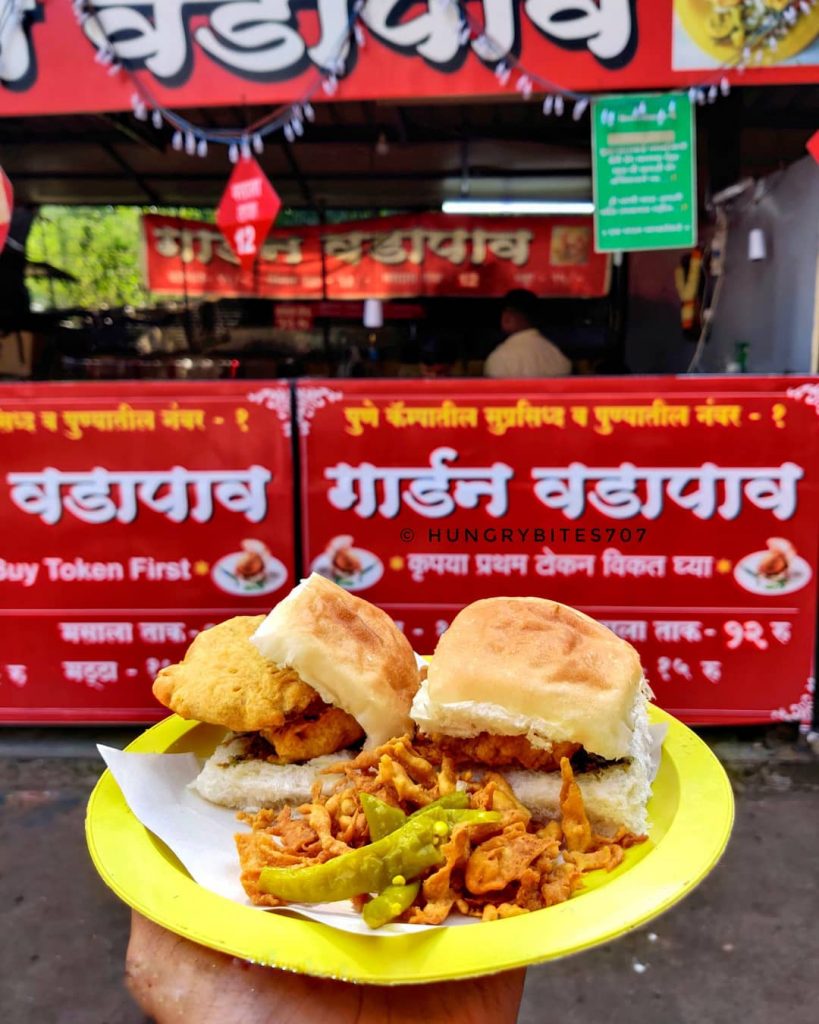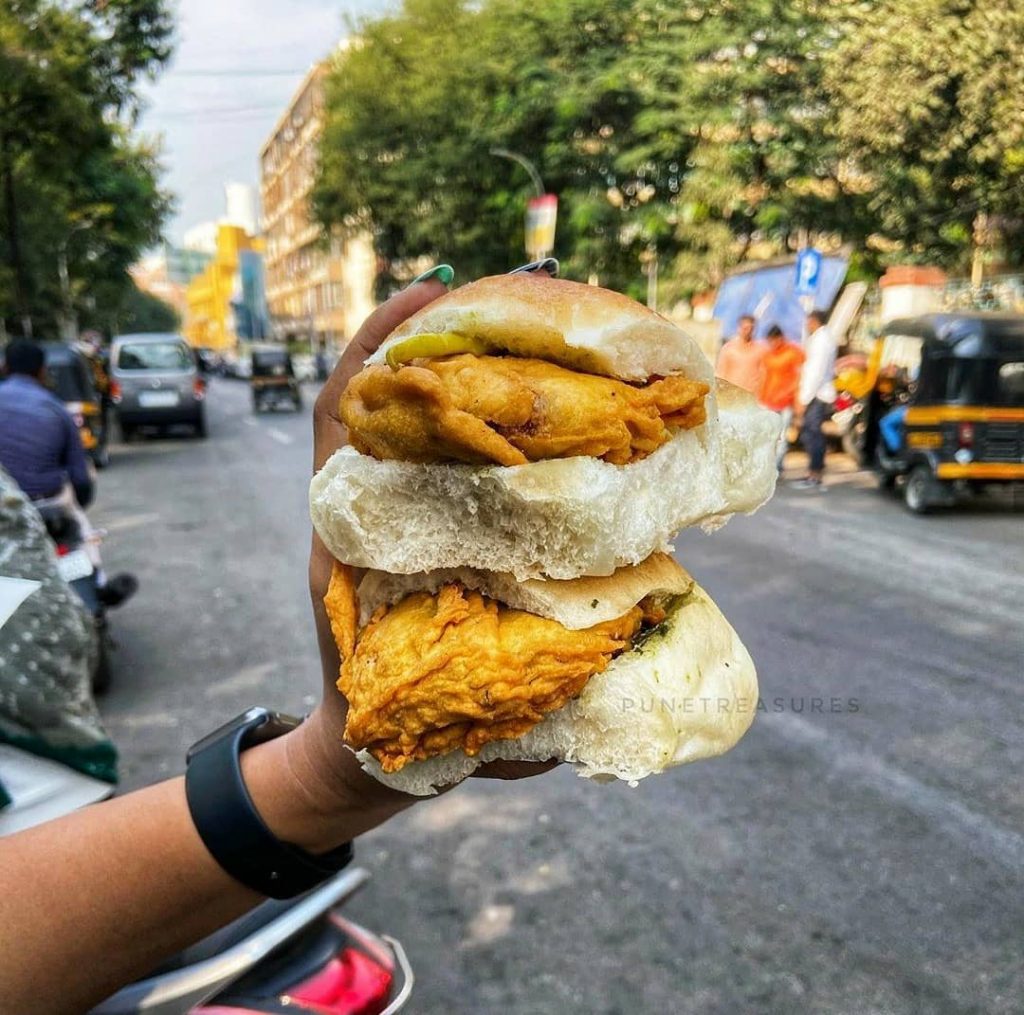 We are taking this "JJ Garden Vadapav" to the top in this list and no doubt this Vadapav is top in all categories in Vadapav. Garden Vadapav is the topmost famous vada-pav in Pune. Every Punekar very well knows about Garden Vadapav. Garden Vadapav serves for more than 40 years and maintains its quality also. you get a generous serving of mint and coriander chutney, green chilies bathed in vinegar, and of course, the crunchy bits that many call churra along with one serving. They always serve fresh Vadapav and because of a lot crowd you need to wait for some time to get your dish ready, But still, it's worthy.
Address: JJ Garden Vada Pav (All outlets)
Time: 9 am to 10 pm
Price: Rs. 17
Contact: 9422025982
Joshi Vadevale
There is no area in Pune where you can't find Joshi vadevale near your place. The most outlet of vadapav in Pune is Joshi Vadevale. You can see the best clean environment, parking space decorated shop, and tasty Vadapav in Joshi Vadevale. The reason behind its popularity is the fact that they have multiple outlets city-wide, a varied menu and parking spaces (always a boon in the city). The red garlic and ginger powdered chutney are excellent accompaniments and really take the dish to a new level, so it's no wonder that this is widely regarded to be one of the best vada pav joints in the city.
Address: Joshi Wadewale (All outlets)
Time: 8 am to 10 pm
Price: Rs. 15
Contact: 020 2445 2526
S Kumar Vadvale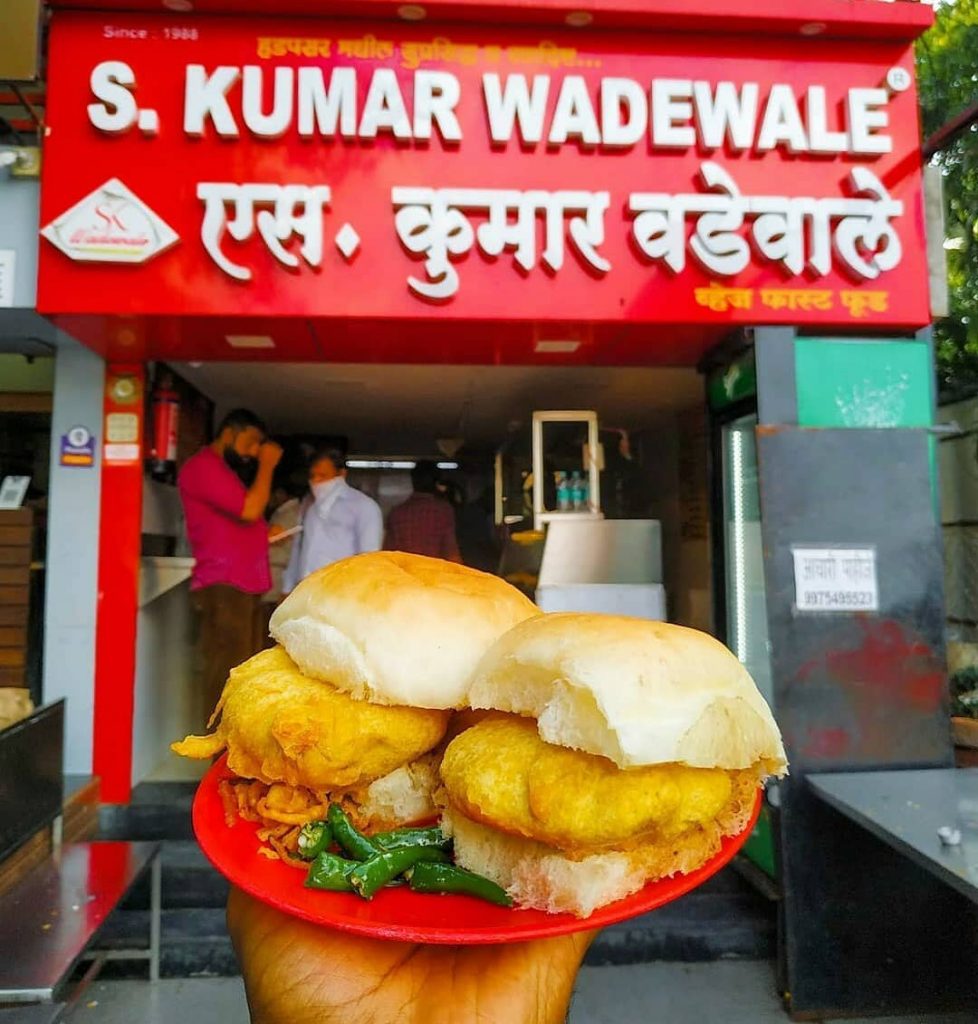 The vada pav here is simply delicious in light of the fact that the nuts and bolts are done well. The flavor of the fresh vada is the legend, and the hit of mint and the kind of garlic compliments it truly well. The vada itself isn't hot, yet the chutney as an afterthought is, so you have the alternative of tweaking your supper as far as the warmth. In case you're inclined toward some zest, remember to gorge on our total top choice, those green chilies which are overflowed with salt, yum! Priced at Rs. 20, they additionally serve a jumbo vada pav for when you need to go all out with the vada pav experience.
Address: S Kumar Wadewale (All outlets)
Time: 9 am to 8 pm
Price: Rs. 15
Contact: 9881812445, 9822095648
Goli Vadapav No. 1
A vada pav anchor that expects to make Maharashtra's cherished nibble a naional staple, Goli has accumulated a dish India presence since the time its first store opened up in 2004. Presently bragging around 300 stores in around 100 urban communities the nation over, they're well headed to accomplishing that mission. How have they done this? By serving a delicious and firm vada pav, yet in addition offering various varieties that you won't discover anyplace else! We're talking Schezwan Vada Pav, Cheese Vada Pav and even a Palak Makkai Vada Pav, dishes that are pushing the envelope on this darling dish and taking it higher than ever.
Address: Goli Vada Pav (all outlets)
Time: 11 am to 8 pm
Price: Rs. 15 onward
Jumboking
We're all used to visiting our favourite fast food restaurants and picking out a burger, pizza or similar snack from the board behind the counter, and Jumboking is a chain that allows you to do the same thing with the beloved vada pav! It started out back in August 2001 in Mumbai, and has expanded rapidly with multiple outlets across Pune now as well. There's a wide variety of vada pav dishes for you to try out, so you can be sure to find one that's done exactly as you like it!
Address: Jumboking (all outlets)
Time: 9 am to 11 pm
Price: Rs. 50 onwards