Top 5 Water and Amusement Parks in Pune
Wish to beat the scorching heat and chaotic city life? Looking to spend some time with family and friends or up for some adventures? What better than a visit to Water Park can help? Well, water parks offer all you need. Pune has got many Water Parks to make your day off enjoyable and Here are some of the best Water and Amusement Parks in Pune that offer a perfect getaway to spend your time and relax.
Adlabs Imagicaa makes a perfect holiday spot to spend your day. Indoor and outdoor rides being attractions for adventure lovers, it also offers thematic and entertainment shows, FnB outlets, shopping experiences to name a few. Built on the Greek Mykonos theme the water park is located next to the Theme park. It greets the visitors with 14 thrilling and exciting rides that will blow your mind away. The Water Park offers you a zero-gravity experience along with rides like Boomeranggo, Loopy Whoopy, Swirl Whirl amongst other attractions. For thrill lovers, the roller coasters are a must-have experience.
They have outdoor and indoor AC coasters like Deep Space and Rajasaurus. Easy and fun rides like Mambo Chai Chama and Tubbby Takes Off are for the kids while shows like Mr.India, I for India have something in store for every member of the family. Many food outlets here offer a variety of food and cuisines for you to indulge. Twisty Turvy is an anti-gravity coaster that will make you super crazy. That's not all. Imagica has a gaming zone that offers high-end VR game experiences, Snow Park with a chilling temperature of -5°C. It is recommended to carry your swimwear while you visit the water park.
Address
30/31, Sangdewadi Khopoli Road, State Highway 92, Off Mumbai-Pune Expressway, Khalapur, Khopoli
Timings
10:30 AM – 07:00 PM
Entry Ticket
Theme Park: INR 1099/child; INR 1299/adult
Water Park: INR 799/child; INR 899/adult
Happy Tuesdays: from INR 999 for theme park
Wat-a-Wednesday: from INR 599 for the water park.
Website
https://www.imagicaaworld.com/
Contact
+91 2242130405
Diamond water park (Splash Mountain Water Park)
Proximity to the airport makes it easier to commute to this water park in Pune. Only a 15-minute drive from the airport, makes this destination a popular spot amongst Indian and international tourists as well. it is a perfect getaway for each one; family, friends or adults. There are 28 water rides, 29 adventure rides with other attractions to cater to your excitement.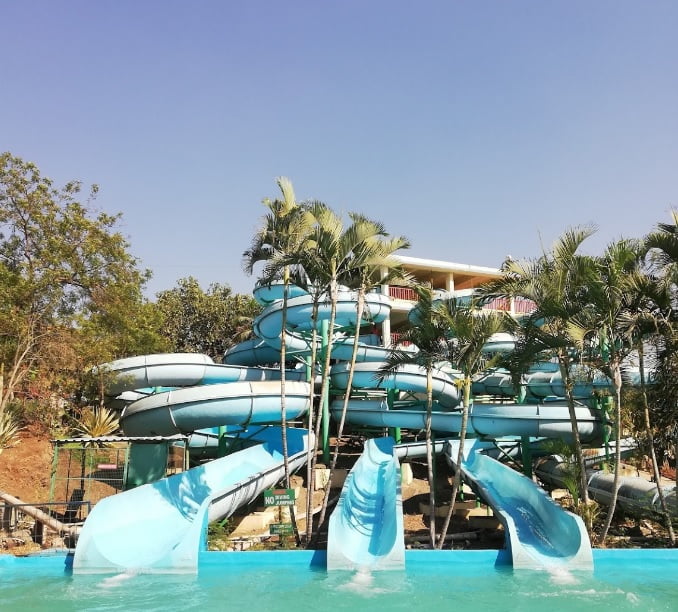 There is a wide range of deals and discounts offered at Diamond Water Park to choose from. The passes have meals inclusive along with the rides and other experiences. The packages can be customised as per your needs along with the stay. If you are looking for fun, adventure, entertainment, food all under one roof the Diamond water park is worth your time.
Address
Water Park Road, Lohegaon, Pune, Maharashtra 411047
Timings
10.00 AM to 5.30 PM
Entry Ticket
Water Park: INR 699/Child; INR 799/Adult
Water+Advnture Park: INR 999/Child; INR 1299/Adult Student offer: 699/person
Website
Contact
+91 – 772 000 6622/33
Krushnai Water park
The largest water park in Maharashtra brings you into the world of fun-filled and exciting activities to enjoy your vacay. Experience the delight awaiting you. The location is what will make you marvel at its beauty. Located at the foothills of Sinhagad Fort surrounded by three dams – Panshet, Varasgaon, and Khadakwasa make it an excellent spot to chill with loved ones.
Krushnai water park offers you a variety of rides like Extreme Turnpikes, Aqua Trail, Pirate Island, Twisters, Black Holes and Wave Pool to name a few. There is a dedicated food counter that serves a variety of cuisines like Indian, Chinese, Jain amongst others.
Address
Gat No. 186, Donje Gaon-Sinhagad Road, Sinhagad Base, Donje Gaon, Maharashtra 411025
Timings
10.00 AM to 6.00 PM
Entry Ticket
Weekdays: Kids (above 4 feet)- INR 400 per head; Adults- INR 500 per head;
Weekends: Kids (above 4 feet)- INR 500 per head; Adults- INR 600 per head;
Website
Contact
+91 937 215 4617 / 18
Sentosa Resorts and Water Park
It is one of the most sought after water and amusement parks in Pune. Dive into Wave Pool or experience the thrill with water and tube and twist slides it has lots more in store for you. Located near Mumbai Pune Expressway, this luxurious resort covers up 11 acres of land.
The integration of technology with the rides makes it safer to enjoy. Kiddie pool designed for kids while adults can chillax into Leisure Pool without worrying about their kids. Rock on the tunes of the DJ and enjoy the rain dance with your friends and family. Besides the resort has all the luxuries like spa, restaurant, plush rooms for stay.
Address
Mumbai-Pune Expressway, 1 km Before Ravet, Ravet, Pune, Maharashtra 412101
Timings
10:00 AM to 6:00 PM


Entry Ticket
Entry(Without Lunch): INR 400/Child; INR 450/Adult Entry(With Lunch): INR 600/Child; INR 650/Adult
Website
https://sentosaresortspune.com/
Contact
+91 992 299 2520
Wet n Joy Water Park
The Wet n Joy Water Park is a rejuvenating experience you can get away from hectic lives. About 52 km away from Pune it is located on Old Mumbai Pune Highway easy to spot from the road itself. It houses India's Largest Wave Pool spread across 60,000 sq ft that offers you 'Real Beach Vibe' with different types of waves of musical thrill.
Spend your time with loved ones enjoying the Family rides or experience adventure in High thrill rides. The Park offers you fun, thrill, adventurous experiences with over 25+ rides. It offers sumptuous food to satisfy your taste buds and hunger. The Maharashtra Mazha restaurant serves mouth-watering Maharashtrian dishes which are a must-have experience. wet n joy is one of Best Water Parks in Pune.
Address
Magic Kingdom, Wet N Joy Waterpark, Old Pune Mumbai Highway-NH-4, At-Mundhaware, Post-Takve Pune (In Lonavala)
Timings
10.00 AM to 6.00 PM
Entry Ticket
Weekdays: Adult ( Height 4'6" & Above) INR 899; Tickets for child at counter Weekends: Adult ( Height 4'6" & Above) INR 999; Tickets for child at counter For College Students INR 650 per person
Website
https://www.wetnjoy.in/Lonavala/
Contact

+91 9112268080 / +91 9112278080